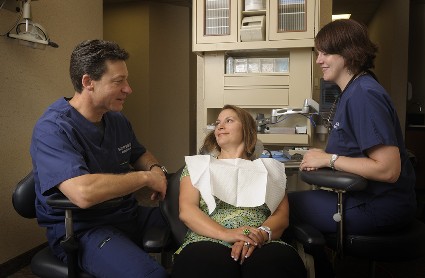 An Endodontist is a dentist who has undergone a minimum of two years of extra postgraduate training.  This Specialist training allows an Endodontist to:
1.  Deal with diseases of the dental pulp and supporting structures.
2.  Diagnose facial pain and related problems.
The general dentist often refers patients for consultation when the diagnosis is complicated or when treatment is more difficult than normal.  Aside from providing treatment, Dr. Reeves and Dr. Iwasiuk's role is also that of educator.  It is important that patients understand why they require treatment, what treatment involves and what they can do to ensure the best possible outcome.  Our endodontic team believes that a properly informed patient has the best chance of achieving the optimal result.
What is Endodontics?
Endodontics is a specialty of dentistry that deals with diseases of the dental pulp and its supporting structures.  Endodontists are dentists with special post-graduate training in this field.  Endodontists are also experienced in finding the cause of oral and facial pain that has been difficult to diagnose.
Although general dentists can perform endodontic treatment, patients are often referred to an endodontist when the case is complicated or more difficult than usual.
In order to understand endodontic treatment, it helps to know something about the anatomy of the tooth.  Teeth have several layers.  The outside layer of the tooth is composed of a hard layer called enamel.  Enamel is supported by an inner layer called dentin, which has at its center a soft tissue known as the pulp.
The pulp contains blood vessels, nerves, and connective tissue that are responsible for forming the surrounding dentin and enamel during tooth development.  The pulp receives its nourishment supply from vessels which enter the end of the root.  Although the pulp is important during development of the tooth, it is not necessary for function of the tooth.  The tooth continues to be nourished by the tissues surrounding it even after the pulp is removed.  In other words, removal of the pulp does not cause the tooth to "die".
Why would I need endodontic treatment?
Endodontic treatment is necessary when the pulp becomes inflamed or infected.  The most common reasons for inflammation or infection are deep cavities (caries), repeated dental procedures, cracks or chips.  Trauma can also cause inflammation and often shows up as discoloration of the tooth.  If pulp inflammation or infection is left untreated, it can cause pain or lead to an abscess.
There are several typical signs and symptoms that indicate root canal treatment might be necessary.  These include prolonged sensitivity to heat or cold, discoloration of the tooth, swelling of the cheek or gums, or tenderness of the tooth or adjacent gums.  It is not unusual for a tooth to be painful or throbbing one day but then asymptomatic the next.  Sometimes there are no symptoms at all if the infection is localized and well controlled by the immune system.
Your visit in our office will begin with a comprehensive consultation and examination.  At that time, we will examine the area, take diagnostic images, decide whether your tooth is in need of root canal therapy, and review your treatment options.
If root canal treatment is indicated, a local anesthetic is used.  We will remove the tissue and bacteria from the tooth, clean the infection and seal the roots of the tooth.  Root canal treatment is often completed in one visit depending on the required care.  Most patients return to their normal daily activities following their visit.  After treatment is completed, you will need to contact your general dentist for scheduling a final restoration.  A treatment report will be sent to your general dentist's office.
Generally, conventional root canal treatment is all that is needed.  Occasionally, microsurgery is needed to save a tooth.  This technique can be useful in locating root fractures and treating canals that may not be able to be accessed through standard root canal therapy.  The most common microsurgical procedure is called an apicoectomy.
Will I feel pain after treatment?
It is normal for your tooth to be sore for the first few days after root canal treatment has been completed.  Initially, soft foods are recommended, as they will provide less discomfort during chewing.  The sorness may continue for up to one week.  Your tooth may feel differently the second and third weeks.  By the fourth week, it should feel like your other teeth.
To aid post-operative healing and to help manage any discomfort, an anti-inflammatory medication, such as Advil, is recommended to be taken for two to three days to reduce inflammation in the area that was treated.  If the anti-inflammatory medication does not alleviate your symptoms, please call the office and let us know.
A very small percent of patients (less than 5%) experience post-operative swelling in the area that was treated.  If this happens, please call our office immediately.  Also, if you have any questions or concerns following your treatment, please do not hesitate to call our office.
Proudly Serving the Reno / Tahoe Area Since 1999.
Address:
5420 Kietzke Lane, Suite 100
Reno, NV 89511
Phone: (775) 825-5221
Fax: (775) 823-9824
Email(s):
scheduling@renoendo.com
financial@renoendo.com
info@renoendo.com